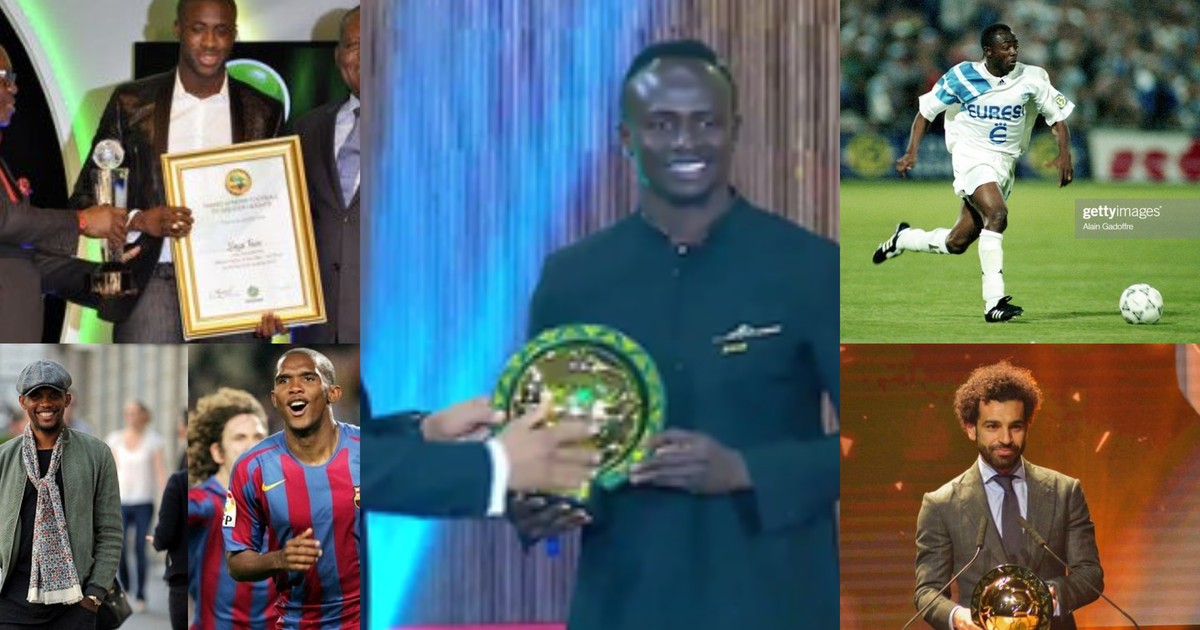 Former Malian international Salif Keita landed the first ever gala organized to recognize the finest player on the African continent.
READ MORE: Sadio Mane crowned African Footballer of the Year
The first player to win the award and retain it was Abedi Pele Ayew and he would win it for three year running.
READ MORE: Mohamed Salah wins African Footballer of Year for second year running
In 1992, the Confederation of African Football (CAF) decided to organise its own awards to rival the one by the French Football Magazine for the best player on the continent.
The two awards run concurrently for three years, before the French Football Magazine awards seized for the CAF awards to continue.
Samuel Eto'o Fils also won the African best player of the year for three consecutive years and Yahaya Toure also replicate that feat.
Eto'o Fils and Toure with four African Footballer of the Year are the joint most successful in the history of the award.
Mohamed Salah is the latest winner of the award with two consecutive successes.
1970: Salif Keita (St Etienne, France and Mali)
1971: Ibrahim Sunday (Asante Kotoko and Ghana)
1972: Cherif Souleymane (Hafia and Guinea)
1973: Tshimen Bwanga (TP Mazembe Englebert and Zaire)
1974: Paul Moukila (CARA Brazzaville and Congo)
1975: Ahmed Faras (Mohammedia and Morocco)
1976: Roger Milla (Canon Yaounde and Cameroon)
1977: Tarak Dhiab (Esperance and Tunisia)
1978: Karim Abdoul Razak (Asante Kotoko and Ghana)
1979: Thomas Nkono (Canon Yaounde and Cameroon)
1980: Jean Manga Onguene (Canon Yaounde and Cameroon)
1981: Lakhdar Belloumi (GCR Mascara and Algeria)
1982: Thomas Nkono (Espanyol, Spain and Cameroon)
1983: Mahmoud Al Khatib (Al Ahli and Egypt)
1984: Theophile Abega (Toulouse, France and Cameroon)
1985: Mohamed Timoumi (Royal Armed Forces and Morocco)
1986: Badou Ezaki (Real Mallorca, Spain and Morocco)
1987: Rabah Madjer (FC Porto, Portugal and Algeria)
1988: Kalusha Bwalya (Cercle Bruges, Belgium and Zambia)
1989: George Weah (Monaco, France and Liberia)
1990: Roger Milla (St Denis, Reunion and Cameroon)
1991: Abedi Pele Ayew (Olympique Marseille, France and Ghana)
1992: Abedi Pele Ayew (Olympique Marseille, France and Ghana)
1993: Abedi Pele Ayew (Olympique Lyonnaise, France and Ghana) and Rashid Yekini (Vitória de Setúbal, Portugal and Nigeria)
1994: George Weah (Paris St Germain, France and Liberia) and Emmanuel Amunike (Sporting Lisbon, Portugal and Nigeria)
1995: George Weah (AC Milan, Italy and Liberia)
1996: Nwankwo Kanu (Inter Milan, Italy and Nigeria)
1997: Victor Ikpeba (Monaco, France and Nigeria)
1998: Mustapha Hadji (Deportivo Coruna, Spain and Morocco)
1999: Nwankwo Kanu (Arsenal, England and Nigeria)
2000: Patrick Mboma (Parma, Italy and Cameroon)
2001: El Hadji Diouf (Rennes, France and Senegal)
2002: El Hadji Diouf (Liverpool, England and Senegal)
2003: Samuel Eto'o (Real Mallorca, Spain and Cameroon)
2004: Samuel Eto'o (Barcelona, Spain and Cameroon)
2005: Samuel Eto'o (Barcelona, Spain and Cameroon)
2006: Didier Drogba (Chelsea, England and Ivory Coast)
2007: Frederic Kanoute (Sevilla, Spain and Mali)
2008: Emmanuel Adebayor (Arsenal, England and Togo)
2009: Didier Drogba (Chelsea, England and Ivory Coast)
2010: Samuel Eto'o (Inter Milan, Italy and Cameroon)
2011: Yaya Toure (Manchester City, England and Ivory Coast)
2012: Yaya Toure (Manchester City, England and Ivory Coast)
2013: Yaya Toure (Manchester City, England and Ivory Coast)
2014: Yaya Toure (Manchester City, England and Ivory Coast)
2015: Pierre-Emerick Aubameyang (Borussia Dortmund, Germany and Gabon)
2016: Riyad Mahrez (Leicester City, England and Algeria)
2017: Mohamed Salah (Liverpool, England and Egypt)
2018: Mohamed Salah (Liverpool, England and Egypt)
2019: Sadio Mane (Liverpool, England and Senegal)