A family seeking asylum in Glasgow were left out in freezing temperatures while waiting for emergency accommodation.
Henry Okwo told how his wife and three young children were then transported 200 miles away to York by Home Office contractor Mears Group.
Mears said the family's housing application was done at short notice but Mr Okwo said he had completed a Home Office interview a month earlier.
They have now been put up in a Glasgow hotel by a charity.
Mr Okwo told BBC Scotland that his wife's hands and his daughter's lips were cracked and bleeding after being outside in minus temperatures into the early hours of the morning on 17 January.
His wife had been unable to keep gloves on so she could breastfeed their four-month-old baby.
Mr Okwo said: "I kept saying we just needed to get these children warm. You can do everything you can to give them a better life, but those memories remain with them – and it was scary.
"I just couldn't stand them having these memories. It was something I could have given an arm for, for them to not have this experience."
Mr Okwo, who has a PhD and several masters degrees, had come to Scotland on a visa in September last year to further his studies.
Because his wife had just given birth, they were not able to travel together. The family submitted their asylum application in December and were interviewed by the Home Office.
They were originally staying in a private let that Mr Okwo had secured in Coatbridge, North Lanarkshire, but he said he had to give it up as the Home Office told him that he could no longer work.
Also in December, Mr Okwo said he submitted a housing application – but was only informed in January, 10 days before his rent expired, that he would need to apply for emergency support.
Mr Okwo said this information came from charity and Home Office partner Migrant Help, who he liaised with throughout the process.
On 16 January, the family were forced to take their belongings into the private let stairwell and then outside.
They waited there for hours in minus temperatures before the property factor called the police.
After being taken to a police station, they were eventually picked up by drivers working on behalf of Mears Group.
They were taken to two hotels in Newcastle, neither of which had a room set aside for them or knowledge of the family's circumstances.
Eventually, they were driven a further 85 miles to York. It had been around 24 hours since Mr Okwo had slept.
"It was harrowing for us," he said. "We tried our best to come here in a decent manner and we want to live a dignified life.
"We thought this was a humane society and felt it was a place for our children.
"There's this sense that most of the people in this group are [here illegally] and so they are treated that way."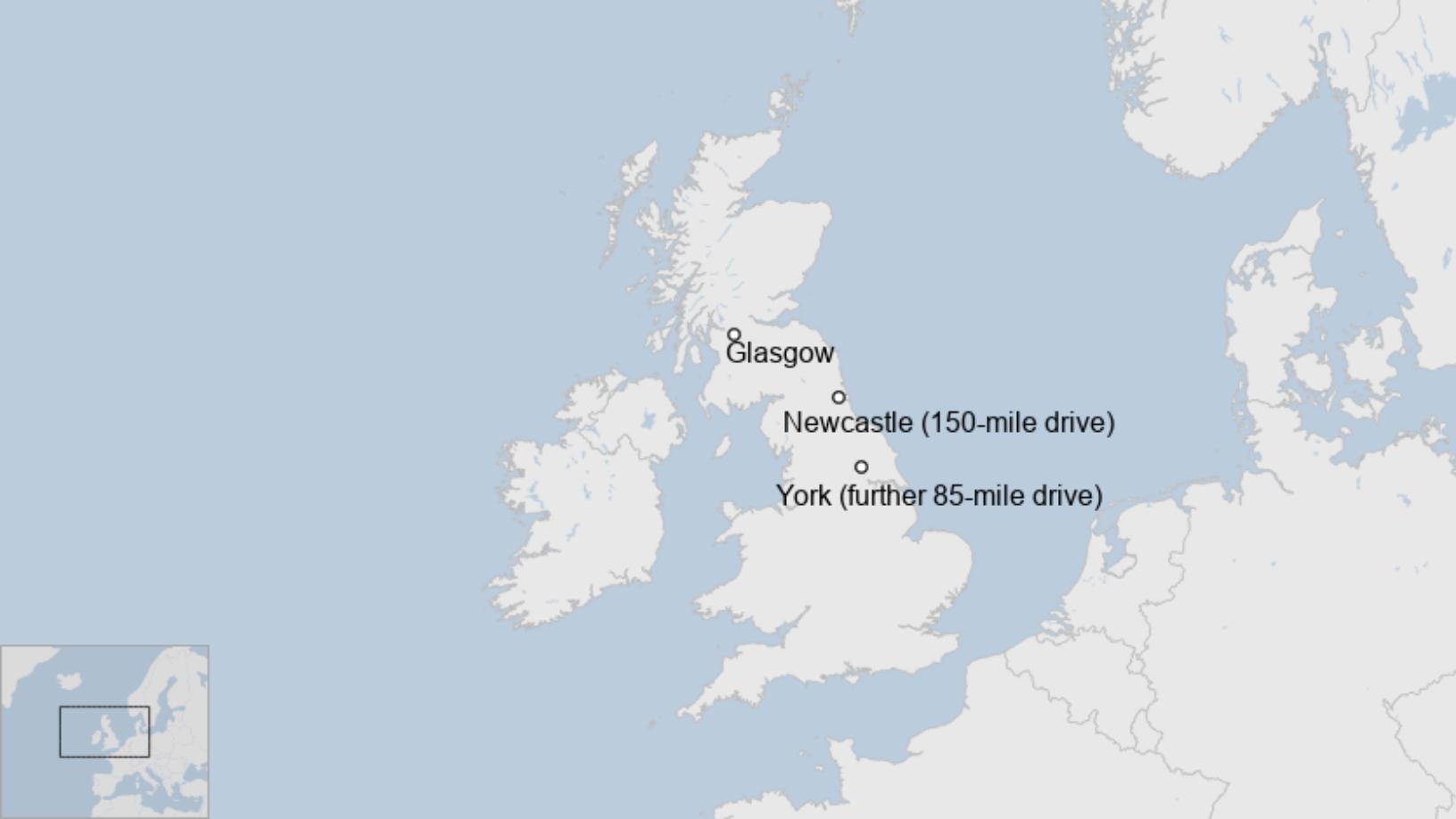 Positive Action in Housing have provided the family with hotel accommodation in Glasgow so Mr Okwo can continue his studies.
The charity has accused the Home Office and partners of "shocking neglect and failure of duty of care" towards the family.
They are now being represented by a lawyer who is working with the Home Office to have them accommodated in Glasgow.
Mr Okwo said his family's situation last week had been exacerbated by communication and technology problems with Migrant Help and Mears Group.
These issues, he said, led to confusion and fear over where they were being transported to.
All of this would have been far more difficult for people with language barriers to navigate, he added.
"People don't want to speak out against authorities – they could be scared, there could be repercussions if they try to express themselves," he said.
"For me, I worry it could get worse for my children. Maybe people who can improve the system don't know these things are happening."
A spokesperson for Mears said: "Mears was asked to provide accommodation at short notice and we sent transport to take the family to the nearest hotel contingency accommodation we had available.
"We understand that the family would have preferred to stay in Glasgow but this was not possible due to an acute shortage of accommodation."
Migrant Help said it had informed the family about their support package as soon as it was approved, adding: "Unfortunately, we have no influence on, or control over, how long it takes for the housing provider to pick the family up or where the accommodation is offered."
On Mr Okwo's employment eligibility status, the Home Office said it may consider applications for permission to work on an exceptional basis where the applicant does not meet the requirements of immigration rules.
It added: "To allow asylum seekers the right to work sooner would undermine our wider economic migration policy by enabling migrants to bypass work visa rules by lodging unfounded asylum claims here."
Source: BBC