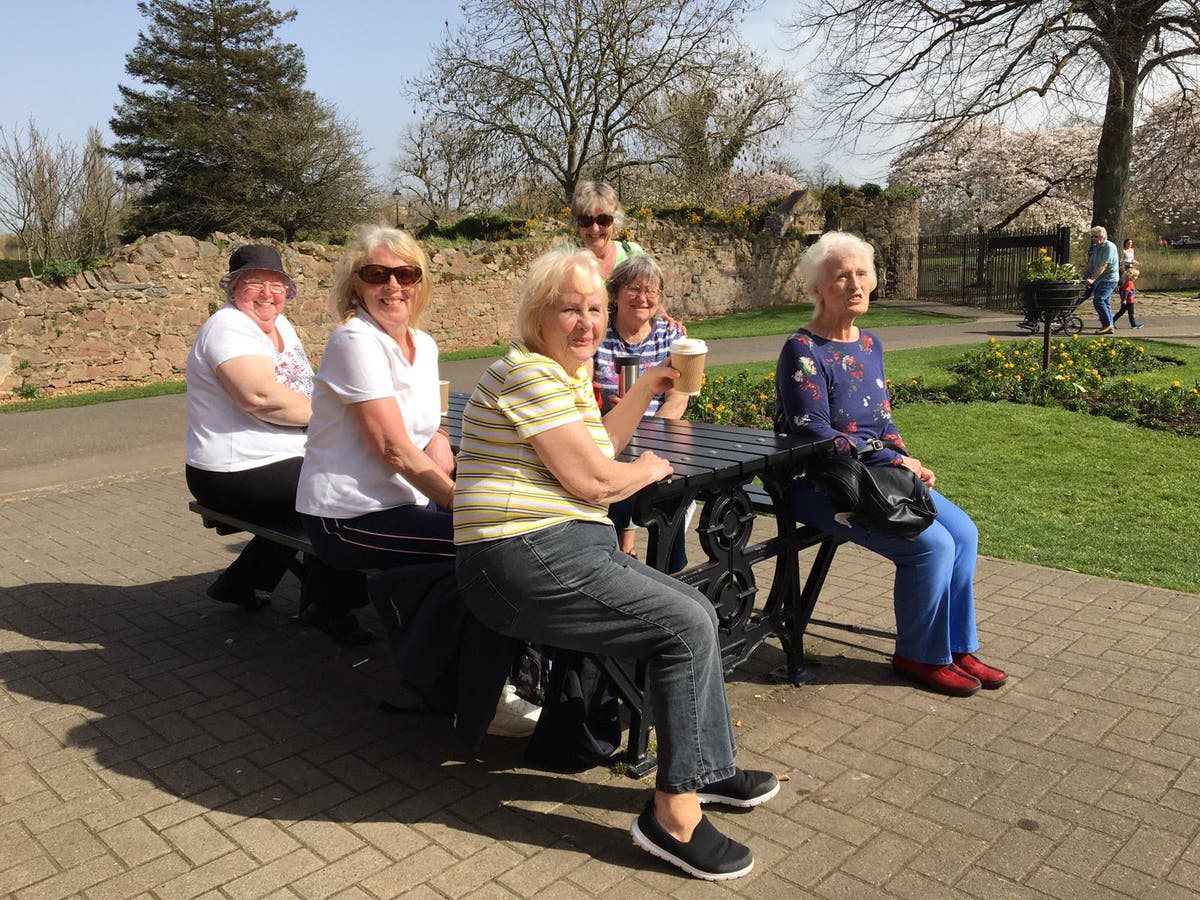 A
bright blue day in Leicester's glorious Abbey Park and, sat at a picnic table, six friends – in fact it's seven, but shhh – are meeting properly for the first time in more than a year.
The group, aged between 69 and 84, are pals going back decades. Until Covid-19 came along, they would get together at least once a week. They holidayed together, line danced together, coffeed together and most of all – by their own admission – gossiped together. For the last 12 months, they have Zoomed together.
How does it feel to be reunited face to face once again? "The only person I've seen properly for most of the last year is my husband," says one. "That's why I'm smiling so much today."
What will they be talking about? "We'll be putting the world to rights, love," replies another, Liz Street, the group's junior member at 69. "So, we could be here for some time yet."
Thus begun what some have called the Forgotten City's long walk to freedom.
Read more:
Leicester – population 350,000 – is unique across the UK in that it has now been in some form of lockdown since the very first nationwide shuttering on 23 March last year.
As restrictions were eased across the rest of the country in July, stubbornly high coronavirus rates meant this East Midlands city remained largely closed throughout. There was no Super Saturday here. There was never any summer respite where family or friends were allowed in each other's gardens. Seeing loved ones on your own property had, until Monday, been illegal here for one year and six days.
"We have become a footnote," the city's directly elected mayor Sir Peter Soulsby told The Independent 100 days into the continuous lockdown.
Which, perhaps, makes this week's tentative easing of national restrictions – groups of six being allowed to meet outdoors – more significant in Leicester than anywhere else.
"This week is the first time we have seen light at the end of the tunnel," Vi Dempster, the city council's assistant mayor for health, says. "This is the closest to normality we've been since this all started. We've had it so hard here that people are being realistic about what might happen but you can feel there is real hope out there now."
It is for this reason, perhaps, why there is, today, a palpable sense of joy in Abbey Park, the city's most popular green space. It is why our six (seven) friends – who, cards on the table, did have a very brief, very cold Christmas time walk here – cannot stop laughing at their table.
"We started planning this as soon as Boris said the date," says Street again. "I think we'd started messaging each other before he'd even finished talking. We've been counting down the days."
They've all been vaccinated and they're raring for a summer of (relative) freedom. They call themselves an all-female version of Cocoon, the cult 1985 film about rejuvenated pensioners, although a Leicester version of Ocean's 8 would also work. A cackle at this. "At our age, you feel a year keenly, duck," says Doreen Little, 77. "You don't know how many of them you have left."
It was one's birthday on Friday. Vicky Grimmer tuned 72. "This and the sun coming out," she says. "I couldn't have asked for more."
Across the park – duck lake, play area, ice cream van – a group of new mothers are feeling a similar excitement as they meet for a lunch-time picnic.
"We've been talking about this for the last two weeks, it's one of my year's highlights so far," says Poonam Mistry, a 33-year-old teacher. "Wait, don't make me sound like an absolute saddo."
The outing is daunting for them too, though. "The last time things were normal, none of us were even mums," says Hayley Longdin. "A picnic back then would have bringing yourself and some food."
She looks around at nappies, rattles, sun hats, prams, blankets, bottles of sun cream, Sudocrem and travel changing mats. "Today, I feel like I've brought half the house," the 35-year-old PR worker concludes.
There is a wider point here: "I feel like we've learnt how to be mums in lockdown and now we're going to have to learn how to be mums in this expanded world where you're actually allowed out your house for something more than a walk," she says. "All those things most parents do immediately, we're going to be doing for the first time with one-year-olds."
At least today, the little ones appear to have been unfazed by the big outing. They sit doing exactly what babies do: ignoring their toys and trying to get into everything they shouldn't.
The city, of course, is not out of the woods just yet. Caution remains key here. Current infection rates are still more than twice the national average, at 114.6 cases per 100,000 people, while vaccine uptake is less than 70 per cent in some areas. So low is that figure, indeed, that officials are currently debating a plan of going door to door offering the jab.
Yet, all the same, there is a sense of a corner being turned.
"People are definitely nervous because of what happened here last year," says Morgan Gamble, an 18-year-old IT student. "They're pessimistic but they're optimistic." A pause. "Is that possible?"
He's one of four students having a kickabout today. Are they nervous?
"A bit, yeah," nods Pavan Marwaha, also 18. "I want to be optimistic but I don't see how cases can't rise again once you get back to normal. This isn't going to be the end, is it?"
Probably not, agrees mate Sam Barsby. But this feels different to last summer, he reckons.
"Everyone knew when they were rushing to get things open, it was all going to kick off again," he says. "It seems a bit more planned this time."
There is about 60 years difference between these lads and the group back at the picnic table. But as Barsby runs for a long ball, he comes out with a phrase that echoes their sentiment too. "I'm 18," he says. "I don't want to miss out on another summer."